Blog
Wedding Details Most Couples Overlook
by Sarah Anderson on Mar 12, 2019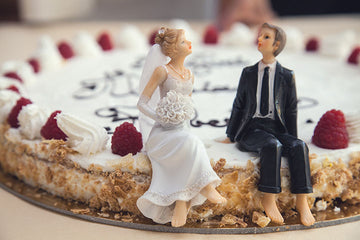 Wedding Details That Most Couples Overlook
Do you ever wish you could get a little bit of advice from everyone who knows something that you might have never thought of? We had this discussion at boldSOCKS when we realized that we know all about the world of groomsmen socks while some people might not even have that on their radar as they're planning the big day. We decided to reach out and ask industry experts what else couples might be missing as they are planning to embark on one of life's greatest journeys. Here is what they want you to know.
Lighting
"I'm a wedding photographer who's shot tons of weddings all over California. If I see anything overlooked during the wedding day, it's light for the ceremony. People often do not plan for or think about the directionality of the light and where the sun is going to be for their ceremony. More often than not, it leads to the sun shining from the side leaving the brides face in dark shade while the groom gets blasted in full sunlight. Backlit or front lit ceremonies that face either east or west are best. If given the choice, backlit (where is sun is behind the ceremony) is best. Better yet, you can't go wrong with full shade.
Side Lit : Worst
Front Lit: Good
Back Lit or Full Shade: Best
Next up would be colored lighting for indoor ceremonies... Yikes, the skin tones that creates."
-Matthew Lim, Matthew Lim Photography
Place Setting Pictures vs Practicality
"When planning the look of their reception tables, couples will often fall in love with a place setting they see on Pinterest or Instagram that has a charger plate, dinner plate, salad plate and napkin all together. In reality, if you are serving a plated meal, the dinner plate will be in the kitchen ready to be plated as your guests enter the reception. The design only works for photo shoots. Lots of lovely design details need to be vetted with your vendors before you commit to them."
-Kristin Stephanie Rose Events
Candles
"One thing I always suggest to couples is to add as much additional lighting and candles as possible. It is an easy way to enhance mood. Most know to do this during the reception, but usually don't think about it for the ceremony. It is most overlooked during the wedding ceremony. Adding candles to the aisle or altar area can make the room feel warm and romantic. It also adds another layer of interest in the final photos the couple receives."
-Logan Westom, Logan Westom Photography
Taxes, Gratuities, Damage and Setup Fees
"When pricing venues and vendors it is common to see eager couples budget for the quoted price and completely misunderstand that that price does not include hefty additional items like taxes, gratuities, damage or setup fees. Always ask for an "out the door" price quote to ensure you are budgeting appropriately. These fees can be thousands of dollars and nobody wants that type of surprise weeks leading up to the wedding."
-Bree Carroll, B Carroll Events

Guest List Implications
"Many online blogs and resources (or morning show tv anchors!) will run stories that talk about wedding budgets in certain cities. The vast majority of them are unreliable at best; especially if they don't list a guest count. Not only do the wide range of options come into play (formal wedding venue with in-house catering vs. a rented hall and outside catering, for example,) the guest count tends to be the single-most underestimated factor on a budget. A $5,000 budget for 50 people creates a very different experience than $5,000 for 150."
-Tonia WeddingPlanningDIY.com

Steps Required to Achieve Small Details
"I personally think that many times bridal couples get excited about all the details surrounding their wedding but they don't think through the steps each of those details entails. For example, something as simple as your parent's wedding photo displayed on the cake table. Seems simple enough when you're dreaming of ideas but the actual execution of that idea takes 9 steps! Taking the picture off your mom's wall, wrapping it, placing it in the car, unwrapping it, displaying it next to your beautiful cake, re-wrapping it, transporting back to your mom's house, unpacking it and hanging it back where it belongs! This is just one very small example of how many logistics an actual wedding has. When brides are planning their weddings without the help of a professional planner, they need to think through each step from start to finish and assign those tasks and duties to a specific caretaker. While it takes a lot of time in preparation, it pays off big on their actual wedding day."
-Amy Grace Collins, Amy Grace Events
Food Before Dinner
"One of the most important details that is often overlooked is nourishing your guests. Sure, there's dinner and all, but there's a long stretch of time between the ceremony ending, the bar opening, and dinner being served.
I've attended too many weddings where pictures go a bit long, people are drinking alcohol, and there's barely any food. To solve this issue, it's best to have both a self-serve bar of perhaps cheese and crackers, as well as a few passed appetizers. This way if you're stuck in a conversation, food comes to you, and if you have some freedom, you can go grab some yourself to help manage your alcohol consumption for the next few hours."
-Zack Taylor Life Insurance 420

Order of Service Stationery
"From our perspective, one of the most overlooked items of stationery is the printed order of service. Along with place cards, it is usually our most rushed order as frantic brides and grooms realize at the last minute that their venue or church does not supply one as part of a package.
It is always an optional piece of stationery, and the question the bride and groom should be asking is do you need one? It depends if you're asking for participation in the ceremony or there is a lot of movement from one place to another that you don't want to be communicated in your uncle's booming voice. They're often a nice keepsake of the ceremony and provide a space for additional information about you as a couple."
-James Boston, Co-founder Paper Lust
Backup Plan for Inclement Weather
"Being in a destination wedding market on the beach a large majority of my wedding ceremonies take place outside. One of the biggest mistakes I see couples make is failing to have a backup plan in the event of inclement weather. Weather is the one element that is definitely out of our control, and when it turns unfavorable it can make for a very stressful experience. While rainy wedding days can make for some amazing photos, without a backup plan it can take some of the joy out of one of life's most special days."
-Eric Hunt, Myrtle Beach Wedding Officiant
Activities to Entertain Guests Between the Ceremony and Reception
"When you go away for photos, give something fun, memorable and interactive for your wedding guests. Sometimes there is a 2+ hour gap in between the wedding ceremony and start of the reception - something many couples forget to plan for. An open-air photo booth is a great idea to keep guests entertained for hours so rather than opening it from 7 pm, you can make it available earlier (after your ceremony). What you can do is set up a space for the photo booth. A sexy lounge with a backdrop (or even perhaps a giant swing) has been super popular in our experience. The best part of the open air photo booth is that your guests can take their own photos with their phones - no actual camera/booth required!"
-Lilac Zhang, Sydney Wedding Stylist Upside Down Events
What's Really Important
Lindsey Scales reminds brides and grooms to keep in mind what matters most and stick to it. Don't let yourself get swept up in all of the big ideas and chaos.
"What is important to you and your partner? Pick three things you're willing to invest in. Anxiety is my barometer for whether I'm losing sight of my values. Once my stress level reached a certain threshold, we assessed whether we really need to have or do that thing. One less thing on the to-do list always lightens the load."
-Lindsey Scales Space Organized Simply
Wedding Dress Hanger
"Many brides carry their wedding dress to the venue on a typical plastic retail-style hanger, which isn't very pretty for photographs. Consider purchasing or borrowing a more stylish hanger that is worthy of your wedding gown in order to get a nicer photo! Even a simple wooden hanger is better than a cheap, clear plastic one!"
- Jessica Bishop, Founder & Editor, The Budget Savvy Bride
Hospitality Packages (and Door Hangers)
"Leave a hospitality package in each guests hotel room that includes; a personal note, itinerary, things to do in the area, snacks and door hangers."
- Melisa Imberman The Event of a Lifetime
Groomsmen Socks
"Socks for each of the men in the bridal party is a detail that sometimes is overlooked but truly makes a big impact when properly executed. Having a coordinated bridal party through the socks adds a touch of elegance and it can be a fun elegance. It connects the entire bridal party especially with people going more and more away from colored vests."
- Ryan Roff, Co-Owner BoldSOCKS


Scheduling Alone Time
"Elopements are becoming so popular because they are small, typically low-budget, and they celebrate the couple becoming life partners. There is a way to create the intimate experience of an elopement in a wedding. It's by scheduling time to be alone with your partner on your big day, to catch up, take a breath, and check in to see how you're both doing. I like to take my couples away from their reception for a few minutes so they are able to spend time alone together. Your wedding day can easily become a whirlwind of faces, time flies by so fast, and before you know it, the night is over! By capturing the intimate moments when the married couple is away from everything and everyone, they are truly able to reflect on all that they accomplished that day."
-August Nyson, August Nyson Creative
Accessories for Weather
"If your wedding is going to be outdoors, offer Pashminas on a cold day or fans on a hot day. My bride wanted to take outdoor photos around NYC for her winter wedding, so she got a fur stole and I pinned hand warmers to the inside."
Melisa Imberman The Event of a Lifetime