Blog
Socks for Laughs: Supporting Gilda's Club
by Sarah Anderson on Mar 08, 2019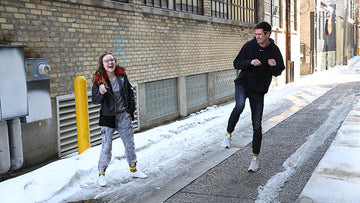 Socks for Laughs: Supporting Gilda's Club
Every March in our hometown of Grand Rapids, Michigan, the lights on the street start to twinkle a little brighter. As we are cursing the lingering winter and wondering if we'll ever see our sunshine again, a warm air begins to bellow through our streets, cascading down our hills and overflowing into the corners and alleys dispersed throughout our city. Suddenly, strangers walking past each other lift their heads and begin to offer smiles, nods, or even hellos as they carry on their journey. Laughter pours from apartments, office buildings, street corners and bars as an invisible weight is lifted off of our shoulders. We begin to feel the slightest hint of warmth signaling the end of winter, open our eyes to the beauty surrounding us, see the smiling faces of passersby and gather together to laugh and support one of Grand Rapids' favorite events: LaughFest.
LaughFest is a 10-day festival of laughter hosted by Gilda's Club of Grand Rapids. Each year since 2011, it has unfailingly brought joy and laughter to our city as the LaughFest staff pulls in several of the top acts in the industry. The joy and laughter are certainly felt far beyond those 10 days. It fills the hearts of the festival attendees and eventually finds its way inside the walls of the Gilda's Clubhouse. There, strangers gather to share laughs as well as tears as they walk alongside one another in their grief or cancer journey.
Gilda's Club offers more than 300 free activities, support groups and workshops each month for people of all ages. Each of their groups is facilitated by a licensed professional as people dealing with like situations converse and share in some of life's darkest moments. Gilda's Club is also unique in that each evening from Monday through Thursday, all of their members are invited to enjoy a meal together served by the staff and volunteers at Gilda's Club so that members can create a community as well as enjoy one less thing to worry about that day.
At boldSOCKS, we understand that sometimes, the bravest and boldest step you can take is the one out of bed, the one out of your door, the one into the doctor's office, the one into the funeral of someone you loved or the one into a support group to talk about things that are so hard to put into words. We are proud supporters of Gilda's Club and are honored to have manufactured and provided their socks for the past 5 years.