Blog
Introducing Custom Photo Socks
by Ryan Roff on Apr 30, 2021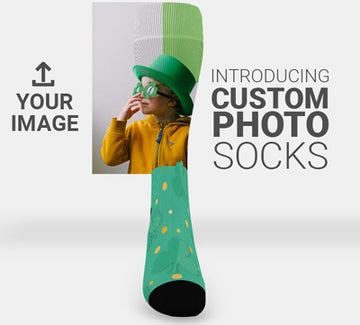 Introducing Custom Photo Socks
We started printing custom, 360 degree socks in 2017 as a way to create a more personalized sock. After all, it was the fun, unique patterns and designs that couldn't be found anywhere else that launched us into the sock stratosphere in the first place. Why not allow our customers to create their own, fun socks? It wasn't a completely novel idea as we had been printing on our knit socks for a few years, but it was something that would end up being a complete industry shift for dress socks.
Really, before 2015, your options to customize socks were pretty limited. You could order your own from a manufacturer, but chances were, you would have to buy at least 500 pairs. You could embroider socks, but that doesn't provided nearly the comfort, flexibility or creativity of a custom sock. You could print on the socks with a direct-to-garment printer, something we started doing around that time, but even those options were limited because of the process involved and the challenges with printing on colorful substrates. You could print on transfer paper and use heat to transfer the inks on socks, a process known as sublimation, but that looked washed out when the socks were stretched. Or, you could print on a label that goes over the sock and just toss out the idea of a fully custom sock.
The idea of printing the socks on a tube so that you could print on the entire substrate just wasn't available yet.
Until it was.
We started seeing printers pop up around the world and we knew we needed one. We traveled near and far to find the best of the best and we finally found a printer that lived up to the hype.
We started with the basics in custom face socks and custom text socks, but the world of custom socks quickly opened up for us as we saw its potential. We wanted to bring the same creativity we brought to our custom knit socks and soon we had a growing offering.
Our latest product, custom photo socks, was never an issue for our printer, but we certainly wanted to get the interface right so that you could see how the socks would appear before printing them. In other words, we wanted to give you the ability to see it before you bought it.
After months of exploring different solutions, we found a way to transpose your image on to the socks.
The process is easy. Find a photo sock template that you like and simply upload your image. From there, you have the opportunity to change the crop to fit the sock template or accept it as it. Submit it, and you will get a nice preview of how the sock will be printed and within days, your custom photo socks will be on their way to you.
We will continue to add more custom photo sock templates so keep an eye out for new fun designs or send us your ideas at feedback@boldsocks.com.