Blog
Every idea. Every design. Every pair. Thoughtfully crafted.
by Ryan Roff on Jul 15, 2021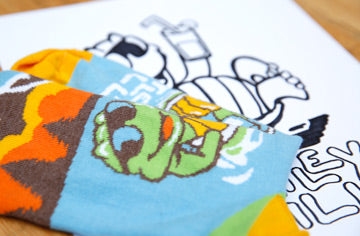 Every idea. Every design. Every pair. Thoughtfully crafted.
Over the years, socks have changed. Designs have evolved and capabilities have improved making more and more possible: more fresh ideas, vibrant colors and fun designs. Some of the socks we are developing today we wouldn't have dreamed about 10 years ago. Significant barriers would have slowed us down or stalled us all together.
But this is a new era. An era where thoughtfully crafted and artfully designed is not only possible, but it is the backbone of our brands.
boldSOCKS started manufacturing in the USA about a year ago. We are creating smaller batches and more unique designs all the time. We are meticulous about our process which means some designs take a bit longer to develop than others, but it also means we get a slow trickle of brand new, one-of-a-kind designs hitting our site all the time.
So what does this process look like?
We are ideating all the time. Sometimes, an idea comes from a brainstorm or what we think will look great on a sock, while other times it is an aha moment. Sometimes a drive down the road or a float down the river is all it takes to feel enough inspiration to sketch up a design.
For example, take our new Turtley Chill sock. I had done some recent paddling down the river and all along the way were these turtles, perched up high on logs taking in the sun and enjoying their time on the river. They were super chill. It was as if they were just as much up for a good time as we were.
So, it sparked an idea. What would you call a totally chill turtle sitting on a log (or better yet, floating down on its raft-like back)? Boom! Turtley Chill. Sure, I am dad and yes this does make me chuckle, but who doesn't love a good pun?
The idea was in motion and we started sketching the design. The turtle needed to look happy. It needed to look chill without a care in the world. It needed to be reclined and better yet, reclined with a drink in its hand.
Then we needed to take that design and translate it into a sock. To do so, we convert the design into a bitmap where every pixel in the design becomes a stitch in the sock. Stretch it vertically a bit since every stitch isn't a perfect square (like a pixel) and you've got the beginnings of an engineered file.
The design gets further refined and changed based on the capabilities of the machine, but eventually we have a finished sample of the new Turtley Chill dress socks. We stretch it, inspect it and test it to make sure it can withstand the constant wear of our friends and customers taking their boldest steps.
It is like Christmas every time we see an idea come to life. We hope you enjoy our fun socks and the process as much as we do.