Blog
The Best Father's Day Gifts
by Sarah Anderson on May 30, 2019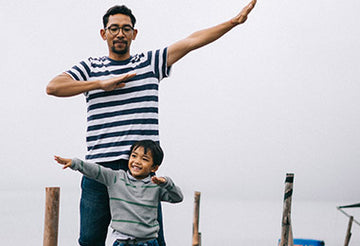 The Best Father's Day Gifts
Socks That Will Knock Every Dad's Socks Off
What would we do without dads? The ultimate fixers of cars, tenders of the lawn and practical jokesters. Dads are the best, there's no denying it. They are our pillars of strength, support and encouragement. They protect us, provide us with lots of love and are always our shoulder to cry on. Most importantly, they always keep us laughing. Whether they're attempting to befriend by telling us a bad "dad joke", giving us unsolicited advice we nod along to but always don't listen to, wearing a free t-shirt they got from work or dozing off on the couch on a weeknight, dads make life a little goofier and a little more lovable too.
The magic of most dads lies not in what they've taught or what they can do, but how hard they try. They try to be the best comedians, mechanics, golfers, fishers, practical gift-givers, lawn tenders, (insert everything else you can think of here) that this world has ever seen. This Father's Day, let's all take a second to try as hard as our dads do. Let's make horrible jokes just to try to make everyone laugh, obsess over our lawn and try to find our dads the best gifts in the world.
Since we've been in the Father's Day business for more than 9 years, we thought we'd make this Father's Day easy for you with the most popular Father's Day socks for each type of dad.
The perfect gift box for airplane loving dads with a taste for flying high! This gift box includes three pairs of men's aviation socks that are subtle enough for everyday wear yet bold enough to make a soaring statement. Designed for dads who have a knack for adventure, taking risks and exploring new heights, these socks will help your dad look as cool as he feels by elevating his confidence and giving him a brand new altitude.
Is your dad running out of dad joke material? Does he need a visual aid for each of his jokes? Are his socks truly telling the whole story of his personality and sense of humor? Enter our animal pun socks, the perfect gift that will fill up your dad's joke cup and allow him to shout his personality wherever he goes. Whether your dad is into chin-chillin' or reminding everyone that it's hump day, he is sure to find a friend in this punny set of socks. Deemed as the "Best Father's Day Gift Ever" by some dads whose children have set very low expectations, this sock gift box is the answer to all of his dad needs.
Is your dad a classic guy? Has he never been one to branch out or take risks with exploring new territory? Well then, this burgundy gift sock box is for him! With classic yet bold patterns, your dad will find himself adding a little extra flair to his style with every step and without feeling like he's overdoing it. These socks are perfect for everyday wear whether it's to the office, golfing on a Saturday afternoon or out to dinner with mom — these striking burgundy socks are just what he needs to stand out by making a classic statement and still feel like himself while doing it.
If your dad is constantly dreaming of water, these socks will help quench his thirst for aqua scenery until he can get out on the water again. Whether he's into sailing, kayaking, speed boating or all three, he can proudly flaunt this footwear wherever the current takes him. Not only is this the best Father's Day gift for water sport-lovers everywhere, this set (and each set on this list) also helps provide nearly one year of clean water for an individual in Africa through Statement Sockwear's partnership with 20 Liters. Your water-loving dad can wear socks that help someone else gain access to clean water. This is a Father's Day gift that is a win-win!
For the dad who loves food and everything about it — this tasty taco gift box is the gift for him. Filled with three taco-tastic pairs of socks, your dad is guaranteed to love them so much, he might almost try eating them. If your dad is the goofy type, food-loving type, cooking type or just the type to always make a wacky and wild statement, look no further, this gift couldn't be more ideal. Help your dad satisfy all of his sock and food cravings this Father's Day with a delicious feet treat. And yes, he'll probably make a "dad joke" about it.
Keeping cool has never been easier with this set of penguin socks, making happy dad feet all over the globe. Finally, your dad can waddle into any room in style with the chillest socks in tow. If your dad treats keeping low-key like an Olympic sport, these socks (which are low-key amazing) will help make this Father's Day the nICEst one for him.