Blog
Rose Petal Red: Ignite Your Passion
by Sarah Anderson on Feb 15, 2019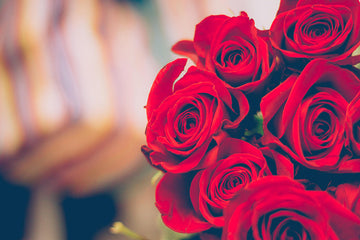 The color of love, passion and excitement, rose petal red is boldSOCKS' color of the month because we think that now, more than ever, love deserves more than just one day. We are challenging you to be bold and take brave strides towards creating a world you want to live in.
Let this color inspire you, ignite those actions that have been laying dormant on your wishlist for far too long and build the things you thought could only exist in your dreams. Make a friend, repair a relationship, take a leap of faith and land in a space you never thought possible.
The color of boldness, rose petal red is unapologetically loud and doesn't mind stealing the spotlight. It's creative in its approach to life, inspiring solutions and ideas that are ground-breaking. It's warm, and encourages the gathering of friends and family alike to bond over shared experiences, old memories and new dreams.
Red is said to evoke hunger, and we think that hunger extends far beyond your stomach. Red hungers for truth, for fulfillment, for five extra steps and three extra miles. It hungers for greatness- every day, every hour, every minute, every second.
Let your passions be ignited and your world set on fire, from the ground up, with these red boldSOCKS.
Red Raptor Men's Dress Socks
Unleash your inner raptor and display your fierceness for all the world to see.
Red Blue Octopus Men's Dress Socks
Did you know that octopuses (yes, octopuses is actually correct, not octopi) are considered to be the smartest of all the invertebrates AND have three hearts? That sounds like a winning combo to us.
Dapper Dog Custom Face Women's Socks
What could inspire more love than your adorable dog dressed up in a bowtie and glasses on a pair of red socks? Nothing, probably. You are welcome.
Red Rose Women's Sock
Elegant beauty entwined in subtle details, these socks truly emulate the soft but powerful red rose.
Teal Red Mermaid Scales Women's Socks
Let these teal red mermaid socks inspire a deep sea exploration and bring a sense of adventure to each and every step.
Feature Photo by Nubia Navarro (nubikini) from Pexels