Blog
The Ultimate Guide to Wedding Socks
by Sarah Anderson on Feb 12, 2019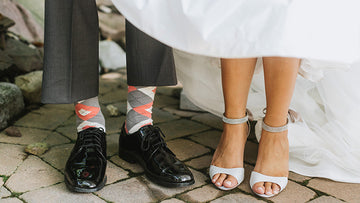 The Ultimate Guide to Wedding Socks
How to Choose the Best Wedding Socks
Choose the look- plain, argyle, patterned or novelty
Decide the level of customization
Pick who you want to give the socks to- groomsmen, guests or both
Congratulations. You are here. You are about to take the next bold step into what is about to be the rest of your life. You are about to begin a journey that is sure to be incredible and from all of us at boldSOCKS, we wholeheartedly salute you. From picking the people to settling on the sweetest touches that turn the occasion into a magical affair, there's much to be considered when it comes to planning your wedding day.
At boldSOCKS, we have been working day and night behind the scenes tirelessly engineering socks to hug each and every one of your strides down the aisle. We are the original pioneers of groomsmen socks and have been weaving and matching the perfect pairs since 2011. When it comes to choosing the perfect wedding socks for the groom and groomsmen, we have so much experience we could write a book. Instead, we decided to share our expertise and offer some helpful tips and tricks to get you started with the process. We hope you enjoy our Ultimate Wedding Socks Guide.
First Step: Choose the look.
Wedding Socks in Solid Colors
For those that saved patterns for other details on their big day, plain wedding socks are an easy choice for a classic occasion. Choose to sport the same matching color or have each groomsman in a different hue. Solid color wedding socks add a polished element to any couple who wish to say "I do". Our solid colors match some of the trendiest wedding colors and provide a splash of color that will tie the entire wedding color palette together. Plus, print names, dates, or monograms on the side of each sock with our personalized, custom sock options.
Solid Coral Over-the-Calf Wedding Socks
High-quality, comfortable, classic and simple. These solid coral over-the-calf groomsmen socks give a lasting comfort for a lasting sharp look.
Patterned Wedding Socks
For the playful pair that hopes their wedding can be a fun affair, patterned wedding socks can open up a world of fun designs. Stripes, polka dots, checkers or optical, each dress sock design adds an undeniable pep in your step. Pattern socks are the sophisticated, playful option that says "I care about the details." Suit up your wedding party in some fun groomsmen socks.
Burgundy Navy Beeline Optical Wedding Socks
The burgundy color in these groomsmen socks proclaim deep, rich elegance with every step, while the navy pronounces sincerity, trustworthiness and loyalty. For the deep, classic and elegant couple, this pair of burgundy and navy argyle men's groomsmen socks is a solid foundation to walk down the aisle with.
Argyle
Argyle wedding socks are the classic choice, sure to please the eye for generations of wedding-picture-viewers to come. Almost impossible to find a pair that would clash with the wedding party vibe, these wedding socks weave in three different shades to make three different opportunities to delight the groomsmen and the guests.
Flamingo Pink Petal Navy Argyle Wedding Socks
Add a bold, classic flare to your bridal party with these flamingo, blush, petal pink and navy argyle wedding groomsmen men's dress socks. These handsome, colorful and unique are sure to bring out the best in your groomsmen.
Novelty Fun Wedding Socks
For the groom and his men who crave a little extra fun on the special day, novelty wedding socks are sure to set the tone for a light-hearted occasion. Put just about anything you can dream of on a pair and prepare for day that your party won't soon forget.
Blue Red Koalafied to Hang Men's Wedding Socks
For the guys that are koalified to hang with you on your big day, these wedding socks are a high-koality symbol of your love and appreciation for them.
Second Step: Customize.
Customized Wedding Socks
The nicest personalized touch for wedding socks, add some custom text on the leg of the sock to remind your guys of the day. Put "groomsmen", "best man", "ring bearer", "father of the groom", etc. or put the date of your wedding day on these socks! You can also provide socks for all of your guests, with a thank you and the date of your wedding. Still wanting plain socks? You can just choose to customize the label, so each person has a gift with a personalized touch as they are opening their pair of wedding socks.
Coral Navy Custom Argyle Wedding Socks
Customize these show-stopping coral and navy wedding socks with words that will keep the day alive forever. Simply click on customization options and add the words you'd like for each and every pair. You can even choose to customize the sock label that these socks will be wrapped in!
Third Step: Choose your color.
Perfectly Matched Wedding Socks
Pick a match so close your guests will think you made the socks from the bridesmaid dresses or, pull a color from the bouquet and weave it into your socks. Our wedding socks are designed around the swatches from the most popular wedding shops, ensuring a perfect match up to whatever you wish.
Blush Light Pink Argyle Wedding Socks
This sweet hue brings out the bridal party glow, softly accenting whimsical weddings everywhere. Whether you perfectly match the soft pink bridesmaid dresses or give a well-deserved nod to the floral arrangement, blush is the color of love and it is here to stay.
New Accent Color
Wanting to weave in one extra pop of color but not sure where? The groomsmen socks would be a good place to start. Add in that final touch of fresh mint or subtly sew in a soft pink to lift the palette into a sweeter disposition.
Mint Navy Argyle Wedding Socks
Mint green, the color of harmony, growth and renewal, gives weddings a refreshing, elegant feel. Woven in as a pop of color to accent an already existing beautiful palette, this color can complete the look and feel of the wedding day.
Final Step: Decide who gets the socks.
Socks for Groomsmen
Keeping your fun socks just to your guys is a great way to set them apart amongst a crowd full of loving onlookers. Make them feel special as they support you down the aisle and long after.
Wedding Socks for Guests
Who wants to dance the night away in shoes that make their feet hurt? Even worse? Dancing the night away in your cold bare feet. Offer wedding guests a third option and arm them with fun socks to hit the dance floor with and take home at the end of the night for the perfect wedding favor that will have them remembering your night for years to come.