Blog
Holiday Gift Guide
by Sarah Anderson on Nov 05, 2019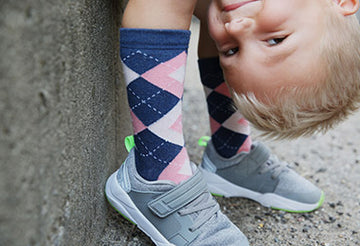 Gifts for Men
---
Image Courtesy instagram.com/darntoughvermont/
Merino Wool Socks
There's nothing like a nice pair of wool socks on a cold, wintery day. Merino wool socks can be worn daily as dress socks with any look. Opt for a pair of thick socks for a cushiony, comfortable feel or snag a pair of thin wool socks that go with any dress shoes.
Novelty Socks
Ah, there's nothing like wearing a hilarious joke on your feet! This Christmas, grab a pair of novelty socks that your loved one will absolutely love. Pick some fun socks based on their favorite hobby or a silly joke they love to tell.
Performance Running Socks
Help those New Year's resolutions this year with some awesome running socks they'll want to run all day in. Wool has temperature-regulating qualities and can wick away moisture, making it the perfect material for performance socks that won't quit.

Shop our men's performance socks!
Festive Christmas Socks
The only thing that makes the holiday season even better is having fun, festive socks to sport on your toes while you go about spreading joy and Christmas cheer. Go for something subtle but festive like a pair of fair isle socks you can wear all year. Or, go crazy and get something so Christmasy everyone will see your gift recipient walking down the street from a mile away.
Shop our festive Christmas socks!
Custom Socks
We love love love giving custom socks as gifts! Put their face, their pets face, a picture of their whole family, really anything you want on a pair of socks and BOOM perfect gift. Custom socks will bring a smile to their face and will give them a pair of fun socks they won't ever let get lost in their sock drawer. Bonus points: get a pair of custom Christmas socks!
Argyle Socks
For the classic sock wearer, it's tough to beat a pair of high-quality argyle socks under their tree on Christmas morning. With hundreds of color combinations to choose from, we have a pair of argyle dress socks for everyone on your list. You could even get one person a few different pairs, so they have more cool socks to match with their looks.
OTC Socks
Over the calf socks are for a very specific type of person. This person loves tradition and dressing to the nine. OTC socks stretch over the calves, keeping legs warmer and ensuring they won't show at all, making them the perfect gift especially during colder weather.
XL Socks
For our friends who wear shoe sizes 13-16, extra-large socks will give them the comfortable fit they need in a pair of socks. XL socks don't have to be boring. We have a wide variety of XL socks in various patterns and novelty designs. Get the perfect pair of dress socks, even for our big-footed friends.
Sock Gift Boxes
For a gift that's sure to delight, grab a socks gift box that has three different pairs of socks. This will give your loved one plenty of options to choose from when they want to wear awesome socks. Quick, easy and one-stop shopping for the best gift on the internet —bold socks.
Gifts for Women
---
Novelty Socks
Novelty socks for women are the best because they come in a variety of colors and designs and can even include fun individual touches like sassy sayings or astrological signs. It would be tough to not find the perfect gift in our selection of women's novelty socks. Go for the socks with the wine jokes, the cute animals or your her favorite hobby.
Shop our novelty socks for women!
Custom Socks
Put her face (or yours if she really likes it) on a pair of socks and give them to her for Christmas! Better yet, put the face of her adorable cat or dog on a pair of custom socks for a gift she'll for sure go gaga over. If she's a little more sentimental, get her our custom note socks and put a sweet love note on a pair of socks she can wear and feel the love all day.
Image Courtesy instagram.com/darntoughvermont/
Merino Wool Socks
Wool socks will make her feet warm all winter, making them the perfect Christmas gift. She'll wrap her toes in these before she braves the cold, thankful for you each time she puts them on.
Shop our women's Merino wool socks!
Image Courtesy vimvigr.com
Compression Socks
Compression socks help reduce inflammation, boost circulation and support the veins in the legs. They're becoming the go-to choice for people who are on their feet a lot and crave some added support and comfort.
Gifts for Kids
---
Kids Argyle Socks
There are few things that are cuter than a little tyke in a pair of classic argyle socks. These make very fashionable Christmas gifts for kids. Use them as stocking stuffers, or stuff the socks themselves with candy and trinkets!
Novelty Socks Sets for Kids
Those little feet can lose socks like nothing you've ever seen before, so a set of multiples makes for a perfect gift for a little tyke who doesn't like to slow down. Our kids novelty socks feature so many fun things that those little toes will love to wear — flamingos, unicorns, rainbows, sports, fun food.