Blog
Custom Socks Guide
by Kourtney Millard on Oct 21, 2019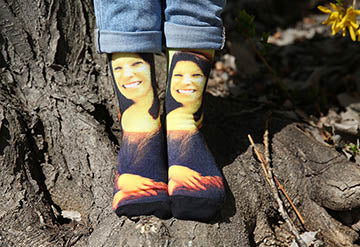 Customize Your Style with Unique Socks for Every Occasion
Welcome to your official custom socks guide! Here, we're going to show you how custom dress socks can be used to amp up your style and leave you feeling like your best self. Haven't you heard? Custom socks are the new way of life. They are truly a game-changer. They have the ability to transform any outfit to help you achieve a whole new look and recreate your style however you want. Our custom socks are fun, bold, eye-catching statement pieces that draw attention to your outfit and leave a lasting impression on those who see them.
No matter who you are, what interests you, or what your style is like, we have a pair of unique dress socks that are meant for you. Custom printed socks are an essential part of any wardrobe, and the perfect opportunity to show off your creative side for any occasion or no occasion at all. You can take full control when it comes to your sockwear experience by adding your own words and images to create your very own personalized socks. Our personalized socks also make unique, special gifts for loved ones and are something they'll always remember. Whether you're looking for novelty socks for a wedding or anniversary, a celebratory surprise to give to a friend, or a special gift for yourself just because — our custom socks got you covered.

Custom Pet Socks
Do you love your pet so much that you wish you could take them with you everywhere you go? Is it hard to leave them at home all day while you're gone to work and find yourself thinking about what they're up to while you're away? Well, you're in luck! Now, you can bring your adorable buddy along with you wherever you go with our fun custom pet socks! Show off these one-of-a-kind custom socks with your unique pet and stay comfy and stylish all day long. Sport these personalized socks and make your day brighter by always taking a piece of them wherever you go.
Create your own custom pet socks and celebrate your love for your unique pet.
Sweet Sentiment Custom Note Socks
In need of the perfect gift for your special someone? Look no further. These custom dress socks are the perfect way to show your significant other how much you care. Give the gift of sweetness with words that your loved one is sure to appreciate and cherish forever. You can now add your own love note to these customizable socks in your own handwriting to create the perfect unique and meaningful gift. Add any message you'd like to these personalized socks like a sentimental note, quote, poem or memory and make yourself a gift giving pro.
Check out the sweetest custom note socks you've ever seen and share this special surprise with your loved one.
Solid Custom Face Socks
Have you always wanted a pair of novelty socks with your very own face on them? Now, you can be that person in style with our unique custom face socks. Take personality to a whole new level with fun socks that are meant to impress. Show them off for a night out with friends or rock them at work and recreate what it means to dress "business casual." These personalized dress socks make the perfect quirky gift to give friends or family and will emphasize your awesome gift giving skills. Add some personal flair to your dress socks by customizing them with your favorite face color. These are sure to be some of the coolest socks you'll ever own, we promise.
Make yourself famous on a pair of custom face socks.
Custom Gamer Socks
For the #1 gamer in your life, these custom dress socks are made for them! Whether it be a friend, sibling or yourself — these personalized socks make the perfect gift to help you show off your favorite hobby. It's time to get creative with your sock game — and these novelty gamer socks are the perfect way to do so. You will always feel like a winner in these fun socks, so get ready to flaunt your unique, quirky sense of style no matter what the occasion is!
See for yourself how awesome these custom gamer socks are.
Custom Painting Socks
You can now be the famous painting you've always wanted to be with these fun custom socks! Turn these personalized dress socks into your very own canvas by adding your face or the face of someone else to make a unique gift they'll never forget. Be the Mona Lisa of your dreams with fun novelty socks and turn heads wherever you go. These custom face socks add a personal touch to any outfit and will do an excellent job of putting your creative sense of style on display.
Become one of the most famous and magnificent works of art with these custom painting socks.
Check out more awesome custom socks and let us know in the comments down below which ones are your favorite!