Blog
A Case for Women's Socks
by Sarah Anderson on Dec 09, 2019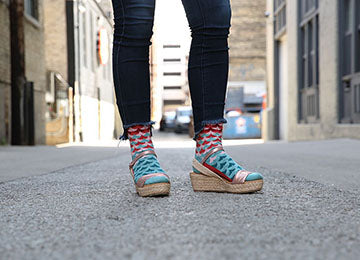 A Case for Women's Socks
From A Formerly No-Show-Socks-Only Girl
Women's dress socks have been a long-neglected accessory in women's mainstream fashion. That's changing.
Socks present a fun opportunity to add a little more style and personality to your look.
Ankles with socks on them are a million times warmer than ankles without socks.
You can check out my favorite picks here.
Hi, I'm Sarah. I'm the one in the team photo above wearing a coral dress and sandals. I am the digital content/SEO specialist here at boldSOCKS. Let me tell you a little bit about my journey and how I got here today (currently writing this with Mister Rogers socks on my feet). I began my career working for a local women's magazine. When I think back at my time at my old job, I think long lunches, fancy parties I would've never otherwise been invited to and getting paid to live and breathe ideas, products, shops and events for women. Because of my environment and my incredibly cool, funky boss, I got to be an over-the-top version of me. That incredibly out there vintage dress at the antique shop? Had to have it and wear to work, of course. Those super high chunky wedges in my closet? Perfect work shoes for my job. I loved when people would stop me to compliment my outfit and ask where in the world I worked that I could wear something so fun. "Oh, of course!" would always be the response when I explained I worked at a women's magazine. It was like living in this bizarre, but super fun, hyper-feminine alternate universe. I felt like I was the epitome of a women's magazine, and I loved it.
When my desire to write and strategize content began to outgrow the bounds of a local physical magazine, I found myself at the boldSOCKS office talking to them about a job. I might've even told my soon-to-be employers during the interview stage that socks aren't my thing, but I love some good editorial and can whip up some mean product descriptions. I convinced them to give me the job, and there I was, about to become an expert in fun dress socks (primarily men's dress socks) for a national e-commerce company.
I think I adapted pretty well coming from the environment I did into a more focused, masculine vertical. I started in the wintertime and my apartment was close enough to walk to work. I'd put on some fuzzy socks over my black ankle socks and throw on some snow boots to make the .8 mile walk then quickly change into fashionable shoes and ditch the thick socks when I got to work. I'd either wear a dress that required tights and tall boots or pants and ankle boots, with no-show socks, leaving at least a sliver of bare ankle showing. Fun socks for women were cool, for sure. I was all about it. Just not for me.
I even remember when one of my old coworkers (since turned best friend) at the magazine left and decided to all give us a parting gift of guess what!? Fun socks from boldSOCKS! I always gave her a hard time for being a hipster and of course, she was moving across the country to find her new home in Seattle. We shared a very blunt, sarcastic friendship, so when she handed me my fall-themed fun socks as a parting gift, I asked her what I was supposed to do with them. Socks for women? Sounded like a cute look for a rock-climbing, Seattle-bound hipster, but definitely not for me. Years later, I was two weeks into my job at boldSOCKS and I raided my dresser out of curiosity. I found the pair of leafy fall socks with the label still on them. (I didn't tell my boss the label part.)
Soon enough, my bosses and coworkers caught onto my cold, bare ankles and my lack of affinity for dress socks. I always explained, "No no! Dress sock are totally cool. Like, love them on everyone else. They just don't go with my look!" I had been able to pare down my overly feminine wardrobe and opt for a more functional, but still fashionable, black jeans black sweater look for most of my workdays. I wanted to look chic, and I didn't really see how funky women's dress socks would fit into that vibe.
Men's socks, though, I was open to. I hadn't really noticed anyone's socks before, but sure, if guys have to wear dress socks they might as well make them fun, right? It wasn't until I came home with a few pairs of socks for my boyfriend (since turned fiance, woohoo!) that I started to notice how nicely a good pair of bold men's socks could tie a look together or add a nice little element of interest. Michael isn't the fashion enthusiast that I am, so he usually opts for a more laid back look. He began matching his socks with his quarter zips and I began to notice how sharp that looked. Before long, I would make sure he had a pair of dress socks that matched his suits or shirts for any parties or weddings that we attended. Sometime throughout this, Michael became somewhat of a sock snob. Those cheaper dress socks he got from his friends' weddings when he was a groomsman? Suddenly complete garbage to him.
But this article is about women's dress socks, isn't it? Not men's. Okay well, here we go. It started one damp, cold day in the spring. The kind that chills you to the bone because of the dampness, you know? I just wasn't in the mood to be cold. Also, we were meeting a group of college students who were presenting a project they did for boldSOCKS that day, so it was the day to do it if I was going to. I found a pair of black and light blue wool socks that my boss had given me when I started that pretty perfectly matched my outfit and pulled them on before I headed out the door to work.
You know when you're wearing something different and you feel like people might notice and no one really totally does? It kind of felt like that. It was out of my normal style and comfort zone, but it was okay. And honestly? It felt so much better to have warm feet and ankles.
Summer arrived and I was back to bare feet and sandals for as long as I could possibly even justify stretching that season out. When winter came back around with a vengeance (early, in the midwest, in case you were curious), I pulled that pair of wool socks out of my dresser. Suddenly, I really loved the look and feel of having a little added interest of socks covering my ankles. I got about seven more pairs (connections, you know), and now, I can't believe I'm typing this, but I won't leave the house without matching my outfit to a cute pair of women's socks.
Here are a few reasons for wearing women's socks, from a woman who very much used to be opposed to them:

1. Accessorizing
Women's dress socks present another fun opportunity to accessorize! Whether you've got jeans and a sweater to match or, like me, wear black on black most days, you have the opportunity to add a little flair or color to your look.
Image Courtesy Darn Tough Instagram @darntoughvermont
2. The Warmth
Honestly, I look back at my bare ankled winter days similarly to the way I look back at my college days where we'd don our cutest dresses and skirts to bars no matter the temperature. How cute, young, naive and cold I used to be! Unfortunately for my youth, those days are long gone. Fortunately for every other area of my life, I've taken a much warmer approach to cold days and feel proud to cozy up when it's chilly outside. Wool socks in the winter are my absolute fave. Nothing beats having warm feet. When I don't have a pair of wool socks handy, I just reach for some thick dress socks and I'm all set.
3. Extra Personality
Okay, so I haven't really had a ton of novelty items in my wardrobe as of late. I certainly make a statement, but with items that aren't as obvious. That has slowly started to change with some novelty socks and I'm not that mad about it. My first pair of women's novelty socks was the Mister Rogers Socks, as he was a childhood hero of mine and I got to wear them for a website photoshoot anyway. They aren't easy to match and definitely not my first pick for a big day at work, but I do love slipping on my fun socks and being reminded of all the good Mister Roger brought into the world.
4. Seasonal Celebrations
Similar to expressing personality, women's socks can provide a little extra canvas to be a little bit extra fun. Prime example? My new Fair Isle Socks! They're a classic, semi-toned down approach to Christmas socks are pretty appropriate for whatever. They're nice when you want to show that you're fun and Christmasy, but you're not ready to throw on the light-up necklace or headband. Similarly, there are some super fun Halloween socks and Easter socks out there, too, that I 10/10 recommend.
5. A Little Extra Magic
When there are days that everything seems entirely way too serious, popping on a pair of fun women's socks can provide you with that tiny little moment of joy every time you peek down at them. They can also remind other people who see them, too, that it's not that serious and life is about having fun!
______
Whatever you decide to do and wear, just make sure it makes you happy. Whether you're joining the dress socks bandwagon or staying with your no-show style, we at boldSOCKS wholeheartedly support you in your fashion decisions and are here for your sock style, whatever that may be, every step of the way. Here are our women's dress socks and also our women's no show socks for you to explore, no matter what kind of socks you're into these days.
What do you think? Dress up the ankles or leave them bare? Let me know in the comments below!