Blog
Here's why experts want you to stop using party bags and use socks instead.
by Kourtney Millard on May 03, 2019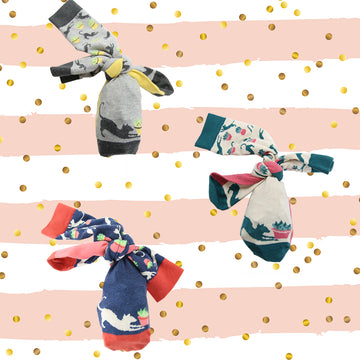 Here's why experts want you to stop using party bags and use socks instead.
Using socks as alternative gift bags helps cut down on plastic consumption and waste.
By shifting norms we can make strides toward becoming a less wasteful society.
There's no better way to show someone you love and care about them than with a gift. You head to the store and find the perfect item for your special someone, something they've told you they've always wanted but have never actually bought. Before leaving, you decide to quick swing by the party supplies section to pick out some vibrant wrapping paper and ribbon that matches the awesomeness of your surprise. Whew! You're done. The stress of shopping is officially over and you can't wait to see the look on your partner's face when they open your amazing gift.
So that's it, right? Not quite. What many of us aren't aware of is that excessive amounts of wrapping paper found at birthday parties, baby showers and other celebrations aren't actually recyclable or healthy for the environment.
"We can start to change our birthdays and the we celebrate things to try and cut down on plastic."
- Isabel Thomas
What else are you supposed to use? Who doesn't love the feeling of receiving a gift from someone during Christmas time just to simply rip open the brightly colored, Santa-covered package full of mystery and excitement? Or being handed a bag at your best friend's party and discover it filled with candy and other goodies? But hear me out...what if you tried using a pair of socks as party bags instead? Not only is it more interesting than traditional wrapping paper, but it's also an eco-friendly method of gift giving that's much better for the environment by reducing excessive waste.
This is especially beneficial because what many of us don't realize is that a lot of wrapping paper and party bags aren't recyclable due to the metallic, plastic or glitter properties in it. Sound intriguing? Keep reading to find out more about this innovative way to use resourceful material (aka socks) at your next big celebration!
Is substituting wrapping paper and plastic party bags for something more eco-friendly really that important?
The short answer: yes. If everyone stopped using decorative paper and plastic for gifts, the world would collectively reduce waste and help eradicate the cycle that is ultimately harming our planet. We've all heard to be the change you want to see in the world, and one way to do that is by using socks at your child's next birthday party. It's both fun and friendly! We all have an impact on our planet with the choices we make -- big or small, and the more people who actively work to create a healthier environment by eliminating plastic and non-recyclable consumption will contribute to a more positive place for everyone.
Oftentimes, we aren't cognizant of how much plastic material is found in party supplies such as balloons, foil paper and goody bags because they're fun to look at and use as a way to jazz up any social gathering. However, by recognizing that there are different, more sustainable ways to bring your special celebration to life will help you help our planet as well as make you the cool, creative party-planning person you've always dreamed of being. A real Pinterest inspiration in the flesh.
So, why socks?
Reduce Plastic
One champion of the "socks as gift bags" trend is Isabel Thomas, science writer and author of over 150 children's books. "We can start to change our birthdays and the we celebrate things to try and cut down on plastic," she suggested. "You can even make your own decorations from things you've found outside in nature," she added.
Challenge Norms
We live in a culture where it's become so normalized to purchase something you only use once and then throw away. Often, we'll buy a gift for someone and then spend extra money on wrapping paper, gift bags and ribbons to add to the presentation and appeal, but when the party's over, where does this half of the gift end up? Typically, in the trash. This notion of spending money on disposable items is deeply ingrained in how we approach gift giving, and being creatures of habit, it's difficult to recognize and break the pattern.
Isabel Thomas added, "it's a cycle that goes on and on just because we are so polite to each other but we are forgetting the planet." However, just because we've become accustomed to a wasteful lifestyle doesn't mean we shouldn't challenge these traditional beliefs. If we can instead work to become a "keep" culture instead of a "throw away" culture and practice reusing household items in different ways, we will succeed at reducing excess waste (while also saving money -- yes please)!
Revolutionize Gift Giving
I bet you have never thought of giving two gifts in one (okay, you probably have). But try this: give someone one gift of your choice, and one gift being socks that serve as the unique bag your other gift comes in. Two awesome gifts in one! What's better than that? Since traditionally, we spend inordinate amounts of money on the throwaway part of the gift, finding ways to turn that part into something meaningful and reusable will ultimately help turn your gift into a cool, creative and unexpected surprise that just so happens to also be eco-friendly.
For example, if you were to take a pair of socks -- you could use one sock to put your items in and use the other one to wrap around it as a bow. It's quirky, fun and original! The person you're giving it to will be guaranteed to love it (and not just in a "it's the thought that counts" type of way), but your gift will actually rock. This is your chance to get creative with how you show someone you care for them. For me personally, I love the sock idea (I guess you can say I'm a sock-er for a good pair of socks). It's unconventional and will definitely make you and your present stand out.
Time to rock your socks off!
The cool thing about gifting socks that also serve as party bags is that it's not only extremely useful, but there are so many options to gift some with fun patterns and designs. Whether it's fuzzy socks, striped socks or socks with cats on them, they make a great gift that's functional, fun and a perfect alternative to purchasing plastic and other materials that are detrimental to our environment.
Are you ready to become the perfect pair with this amazing idea and give it a try? Are you and your new sock party bags now "sole mates"? Are you sick of all the sock puns yet? If so, shout out to you for being the amazing, environmentally-responsible inspiration we could all use a little more of in our lives. Just remember, you're changing the world, one sock at a time. So, go grab a pair and get gifting!