Blog
10 Things To Do With Your Socks on No Socks Day
by Kourtney Millard on May 08, 2019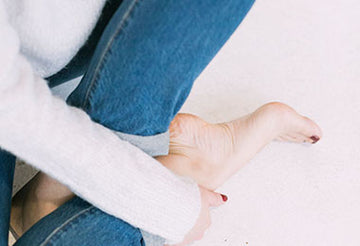 10 Things To Do With Your Socks on No Socks Day
Ah yes, socks. You love them. You wear them. You have a pair for every occasion. You can gift them or collect them, show them off with an outfit or layer them for warmth. Without socks, where would we be in the world? Can you imagine never having an article of clothing devoted to covering and protecting your feet? The sheer horror. Fortunately, however, socks exist and we don't have to worry about what that nightmare would look like.
Socks are truly one of the greatest luxuries in the world. But sock lovers beware because May 8 is...dun dun dun...No Socks Day. Uh, come again? A day without socks? Why on earth would I want to celebrate that? Luckily, you don't have to. We typically think of socks being used specifically for our feet, but there are actually quite a few things you can do with your socks on No Socks Day that don't include wearing them like you normally do. So, don't lose hope on this day because these tips and tricks will have you enjoying your socks, even if you aren't wearing them. Here are 10 cool things you can do with your socks this No Socks Day!
1. Make a sweater for your feline friend.
Socks are great for keeping your feet warm, but what if we used them to keep other loved ones warm instead? Say, maybe your furry friend? You can cut a sock into a sweater for your cat to keep him or her warm during the frigid winter months. This idea is also great if you need to prevent your cat from scratching or licking a certain problem area on their body. It's fun, cute and cozy enough for your little buddy to lay around all day in. They might even love it just as much as you.
2. Put on a puppet show.
Not just for kids, this sock idea is fun for everyone! Who says socks only belong on your feet? If you're in need of something fun to do at home this May 8th, try putting your socks on your hands and creating your very own live puppet show. It's a creative way to make your own fun whether it's for your kids or for yourself. And don't worry about looking silly, we promise not to judge.

3. Make a quilt or blanket.
Have a bunch of old socks lying around the house that you just don't wear anymore? Try stitching them together to make a cool blanket! The best part, no one else will have the same one as you. Reusing socks for something this unique will have you feeling like the next Martha Stewart...maybe even better.
4. Make a stuffed sock monkey or bean bag animal.
This is the perfect DIY project if you're feeling particularly crafty on this day. Take your old socks and stuff them with polyester stuffing (you can even use the stuffing inside of an old pillow) to make a cute sock monkey friend. You can also stuff your socks with beans or beads depending on what you want to make. You can make any animal using just a few simple materials found around the house and a sewing kit.
5. Use them as cleaning and dusting mitts.
Socks are perfect for cleaning hard to reach places in your house like blinds, the tops of cabinets and fireplaces. Just slide one onto your hand and get cleaning! And they're easy enough to keep clean themselves after doing the work— just toss them in the laundry like you normally do.
6. Create your own leg warmers.
So, May 8 is No Socks Day, but they never said anything about cutting those socks into leg warmers. Take a pair of socks and cut the toes off to make your own stylish pair and keep your legs nice and toasty. Guess you can still wear your socks on this day after all.
7. Make your own coffee mug cozy.
Ever thought about making your own beverage cozy? Well, now it's easier than ever before using just a sock! All it requires is a little cutting and you're good to go. They're perfect for hot beverages and looks great too.
8. Use them to help stay organized.
Whether it's for toys, craft supplies or small game pieces, socks make awesome containers for all of your household items. The nice part about using socks to store away your stuff is that they're compact enough to fit into many different spaces and can fold up easily. Forget buying bins and stacking boxes, socks are the way to go.
9. Make a fun toy for your pet.
Socks make awesome homemade pet toys. You can tie them, stuff them or braid them to make fun, playful gifts for your furry friends. Your dog or cat will love catching and chasing them!
10. Create homemade Christmas decor.
Who doesn't love homemade items? They're unique, sentimental and meaningful. After all, the best things in life are the ones that require lots of thoughtfulness and love. This year, socks can help you make the perfect Christmas ornaments and cute little stockings to hang up on your wall. They also make adorable homemade Christmas gifts to show someone how much you care for them. 'Tis the season for socks!
So, what are you going to do with your socks this May 8? Make a tiny cat sweater? Clean the house? Maybe even put on a live puppet show for your friends? No matter what you do, socks got you. And remember, feet are not required.
Comment below and let us know your best ideas!