Blog
Falling in Love: Meet the Carpinos
by Sarah Anderson on Apr 29, 2019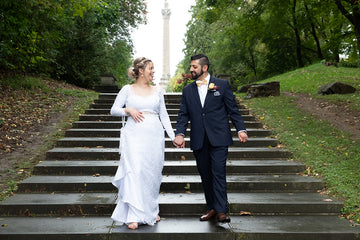 Falling in Love: Meet the Carpinos
There is an old adage about falling in love that goes, "When you know, you know." It simply and eloquently articulates the absolute certainty that follows finding the person you're supposed to be with. Karlee and Adam Carpino from Ontario, Canada know this feeling all too well. They tied the knot in 2018 and we caught up with Adam to hear about the story behind their love, the details leading up to the big day and what this sweet duo is up to now!
How did you meet your spouse?
We actually met online on match.com in February of 2016. From there we chatted and eventually decided to go on our first coffee date at Starbucks.
When did you know they were the one you wanted to marry?
Once I got to know Karlee I knew she was the one. Her personality, sincerity and kindness attracted me immediately and it wasn't long after that that I knew she was the one I would marry.
Tell us about the proposal.
We went to Niagara Falls for a night in November 2017 to celebrate Karlees birthday I had a shirt with her favourite Backstreet Boys lyrics and on the bottom it said "Karlee will you marry me?" It took her a second for it to register but eventually, she caught on and it was a funny moment. After we went for dinner and walked around the falls and met some of her family at the casino later in the night.
How long did you plan for your wedding?
We planned for the wedding basically right after we got engaged until the week before the wedding so from November 2017 until October 2018. Just under a year!
When planning your wedding, what were some things that were important to you?
The most important part of the planning was making sure that we included all of our family and friends to celebrate our special day. (Picking bridal parties etc). Checking and double checking lists with parents to make sure we remembered everyone. (We are Italian and have very large families).
Were you working with a budget? If so, what were some things that you felt comfortable spending more on and what were some things that you wanted to save money on?
Of course, I think everyone operates on a budget and we were no exception. Our family was very generous but we did have to still budget accordingly. We felt we should spend more money on the venue and food as that is what people remember most about a wedding. We tried to save money where we could but at the end of the day, you only get married once so we didn't really skip out on anything.
Tell me about your decision to purchase groomsmen socks? How did you choose what pattern and color? How did the groomsmen socks impact your day, pictures, and/or overall look?
I decided to get my groomsmen socks because I wanted them to be bold but have them all match. I knew I wanted something manly (i.e. the moustaches) so I looked online and found the burgundy/blue moustache socks your company had. I thought they were perfect because our suits were blue and our colour theme was blue/gold/burgundy. I also thought it would be neat to get a few pictures with all of the guys in our matching socks which we did. Also the guys thought it was unique and a great keepsake gift and liked the idea. It impacted the look because it added more of a light-hearted element to our suit. Just something fun and different.
Were there any other details that you would recommend other couples plan for?
Planning is an ongoing process. I would just say that you try and plan as far ahead as you possibly can as there is always something to take care of and sometimes you change your mind about certain details. Try and have fun with the process as it can be quite stressful but at the end of the day if you start planning well in advance you should have more than enough time to plan everything accordingly and planning ahead also relives some of the stress. You don't want to leave any details until the last minute!

What was your favorite part of your wedding day?
My favourite part of the day was when the chapel doors opened and Karlee walked through looking stunning. I knew at that moment all the planning, stress and tough decisions were worth it as I got to marry the love of my life and best friend. Of course afterwards spending time and celebrating with all our friends and family was also fantastic!
If you were to do it over again, would you change anything? If so, what?
Looking back I don't think we would plan it different at all. Maybe just during the planning process, we would try to be less stressed out and overwhelmed. We are very happy with our decisions and the way our wedding turned out.

What is your favorite thing about being married?
The best part of being married is waking up next to each other every morning knowing you have your best friend with you every step of the way to help you tackle life and what it throws at you. Also starting a family as we are expecting our first child (a girl) in September!
Is there anything else you'd like to add?
Happy planning!
You can shop the Burgundy Mustache Wedding Socks and many other great wedding socks here!