Blog
Halloween Socks: No Tricks Only Treats for Your Feet
by Kourtney Millard on Oct 18, 2019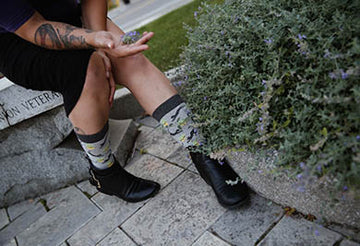 Halloween Socks: No Tricks Only Treats for Your Feet
Fellow ghosts, goblins and ghouls — it's time to embrace your inner spook! Time to step out of the ordinary and imagine what life could be like instead of what it is. It's time to turn into something you always wanted to be or always dreamt of. My spooky scary friends, it is our time to shine. It is Halloween time and we must be fully prepared.
This year, we want you to feel the festiveness from your head all the way to your toes. Being the sock experts we are, we want to arm you with the proper inspiration you need to head into this season full force. It's truly the greatest time of the year and we're here to help you get into the spooky spirit with some sweet feet treats this season. Shop our spooky corner for the cutest, "ghoulest" and spookiest socks around and celebrate Halloween the right way this year!
LOOK THERE! UP IN THE SKY! IT'S ALIEN...SOCKS! Take your funky style to outer space with these unique Halloween socks this season. The perfect socks to fulfill all your Halloween dreams — and you'll officially be the life of any party. These fun socks will abduct you and take you to a galaxy far, far away, but you won't be complaining about getting the chance to show off your incredible, spooky style everywhere you go (whether it's here on Earth or not). Try them out this season for a Halloween party to remember, fly them to the office with you and inspire others to get in the spooky spirit or add them as a part of your costume for an extra unique touch. These alien socks are outta this world! All you have to do is believe.
'Tis the season of all things cool and spooky — including the moon. This Halloween, don't forget to celebrate your favorite giant orb in the sky with these fun socks! Now you can take the phases of the moon with you everywhere you go this season and show off your unique style. Add them to a costume, rock them at a party or pair them with some slacks for a cool, casual work look. Plus, these fun novelty socks can be worn all year 'round, not just during the month of October. It's time to show the world your creative style with celestial socks and make your own space to thrive.

Step into something adorably fun this season with these black cat Halloween socks! These fun socks are the cat's meow, so why not show off your love for all things spooky and unique with these fun novelty socks? Rock them at a party and make all your friends jealous, turn your work outfit into a quirky business casual look with a spooky twist or sport them for a night on the town so everyone can see how much you love Halloween. The possibilities are endless with these spooktacular socks and now you can show off your festive style and love of all things Halloweeny.
These zombie socks are the perfect Halloween treat! Get zombified with these spooky socks and have an excuse to always celebrate your favorite time of the year. Going as a zombie for Halloween? Add these to your costume for the perfect touch to complete your scary look. "Dead-icate" yourself to these Halloween socks this spooky season and leave everyone impressed with the way you dress. These festive socks are a no brainer and a great way to show off your lively style...even if your socks say otherwise.
If you've got it — haunt it! These fun socks are playfully boo-tiful and an awesome way to dress up your feet for your favorite holiday! Be the "Hallow-queen" this year with socks that rock. Boo-yah! Whether you're planning on attending a spooky party or just hanging with your "ghoulfriends" this Halloween, these cute laughing ghosts will keep you feeling extra spooky all season long. And if you're not sure what you're going to be wearing this Halloween, include these fun socks with any costume for some additional ghostly charm. These fun socks are almost too cute to spook but will always lift your spirits, so why not trick or treat yourself with adorable socks and celebrate spooky season in style?
What pair of socks are your favorite? Let us know in the comments section below!
Celebrate this Halloween season in style with our spooky collection and check out more fun Halloween socks here.