Blog
The Timelessness of Mister Rogers
by Sarah Anderson on Aug 05, 2019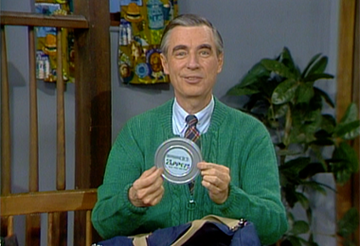 Our Childhood Hero Coming Back on the Big Screen
Upon trying to explain the magic that Mister Rogers brought into one's life, it starts to sound a little silly. "This man who had a different sweater for every day would come home from work, change into a sweater and canvas tennis shoes and talk to us and sing to us. He reminded us to love one another and to be a good neighbor." Why were we obsessed with this show?
Even today, fond memories of Mister Roger's flood our minds upon remembering our old friend. How has this TV show and this person left such a profound impression on all of us? Perhaps its because Mister Roger's connected us back to the values that the quick pace of the world seemed to be leaving behind. Life wasn't about getting all of the newest, coolest toys. It wasn't about impressing friends, the clothes we wear, how we do our hair, being better or even being anything at all besides who we truly are. He reminded us to look outside of ourselves and our sometimes narrow views of the world surrounding us and see other people. Not only see them but connect with them, show them kindness and love and spread good in this world. For 34 years, Mister Rogers sang a song each episode proclaiming what a beautiful day it is in the neighborhood and, of course, asking us to be his neighbor, a request we eagerly agreed to.
He tackled the tough topics for kids like divorces, devastating world events and feelings of fear, anxiousness and even anger. Mister Rogers was revolutionary in his approach to diversity on television, deciding to seamlessly weave in all types of people in his cast and careful to include those of other colors and sexual orientations than himself, a move that was rare at the time.
Growing up with him on our screen has proven to be a very fond memory for a lot of adults today. Nothing can tug at our heartstrings like the image of our childhood hero, clad in a zip-up cardigan made by his mother and canvas sneakers softly smiling at us.
Although his message was last broadcasted on air in 2001, it could be more relevant today than ever. After an act of terror at a pop concert shook the world, a Mister Rogers quote was shared and became viral. The quote read, "When I was a boy and I saw scary things in the news, my mother would say to me, 'Look for the helpers. You will always find people helping.'" The words were shared thousands of time alongside the image of Mister Rogers, proving that his message still has the ability to help us through our tough feelings about 20 years later.
Mister Rogers is no longer able to come back on the air, but Tom Hanks is stepping up to play the beloved character in the "Beautiful Day in the Neighborhood" movie, depicting the story of Mister Rogers, on and off-screen. Coming to the big screen in November 2019, we will once again be reminded of the invaluable life lessons Mister Rogers set out to teach us and perhaps once again be inspired to take on this world with love and kindness.
https://www.youtube.com/watch?v=-VLEPhfEN2M
There are about 1,600 people a month who explore YouTube searching for Mister Roger's episode. This one including the ballon-making process (complete with oddly soothing visuals and light-hearted commentary), dealing with the anxiousness so many kids feel when their parents are away and some fun exercises to do with ballons has amassed more than 1,280,000 views. It seems as though we're all eager to have Mister Rogers grace our screens and enter our lives once again, reminding us of the good and helping us through the bad.
When our team got the opporutnity to created licensed Mister Rogers socks ahead of the premiere of "A Beautiful Day in the Neighborhood," we were thrilled to be able to commemorate our childhood hero and got to work designing and manufacturing the best Mister Rogers socks we could dream of.
Here are our brand-new liscensed Mister Rogers socks: