Blog
Celebrating... Later - 25% Off On All Groomsmen Kits
by Ryan Roff on Apr 09, 2020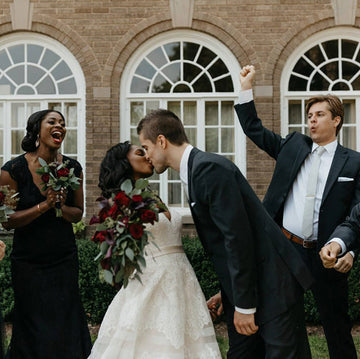 Celebrating...later - 25% Off On All Groomsmen Sock Kits
Spring is one of our favorite times of the year. People are outside, vacations and trips are scheduled (or being scheduled), sports and activities are played and gatherings are happening everywhere… only not this year. COVID-19 changed our entire social dynamic. Typical rhythms, holidays, rituals and events are all suspended, postponed or cancelled and we're left to wait.
… to wait until we get an all clear from our state and national governments to resume normal activities.
This new reality has different implications for everyone. For seniors in high school and college, it means virtual graduations. For athletes, it means a cancelled season (or two). For employees, it means working from home or not at all. And, for engaged couples, it means waiting anxiously for a life altering shift in plans.
It's hard. It's hard on everyone, but we feel especially saddened for those that had important events scheduled for this spring and summer like graduations, weddings, anniversaries and even memorials. Big events carry with them big expectations, especially with the work and planning that goes into each and every detail.
For the past 9 years, we've helped wedding couples around the world find the perfect groomsmen and wedding socks. We've helped create funny socks and sayings, sentimental custom socks, coordinated sock kits, matching sock and tie combos and much more. We've loved helping brides and grooms dream up the best options for an unforgettable wedding day. Seeing their excitement when they receive the socks and groomsmen kits and then receiving awesome pictures after the wedding brings us great joy.
We know this year will be different. Wedding ceremonies and receptions may happen at different times. Weddings might be smaller, at a different venue or on a different date than originally planned.
It may not look like the original dream scenario (they seldom ever do), but in seasons like this, we are reminded of just how beautiful it is to be together now with those closest to us and how great it will be to be together without restrictions later.
At some point, this will all be over and when that day comes, it will be epic. Weddings will be grander than ever. Anniversary trips will feel even sweeter. Graduations and graduation parties will be even more monumental. Parties will be about celebrating life together with our closest friends and family and it won't be taken for granted.
If you had a big event planned, we're with you. We send you our deepest sympathies and hope that you can hold on to the promise of an unforgettable day in the future. Don't lose hope.
For the bride and grooms going through this season right now, we are encouraging you from afar. A new season is upon us and your big day will eventually come. We'd love to celebrate with you so for a limited time, we are offering 25% off of all kits (something we've never done before). All we ask for in return is that you celebrate when your day comes (oh, and send us pictures so we can see your joy on your big day).