Blog
7 Pairs of Fun Socks Everyone Needs
by Sarah Anderson on Aug 20, 2019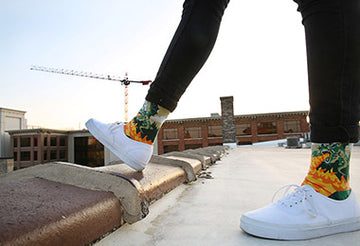 7 Pairs of Fun Socks Everyone Needs
A Little Bit of Novelty Socks Never Hurt Anybody
There's nothing that can spiff up a look quite like a pair of fun socks. The world of novelty socks is full of endless possibilities just waiting for you to unlock. We've put together a list of the seven pairs of socks everyone needs to jumpstart their wardrobe into awesomeness. So sit back, relax, kick back your feet and envision all the insanely beautiful socks you can put on them.
Bright Patterned Socks
Patterns scream sophistication while the bright colors say bold and fun. These socks can be worn with just about anything to add an element of style to an outfit. Pair them with dark jeans and a cool top for a laid back vibe. If you're wearing them to work, consider wearing them with solid colors and letting your fun socks be your pop of bold. If you're wearing them for a fun occasion, all bets are off. Pair them with a dress and sandals or bright-colored shorts. Mix and match patterns, wear bright pants, go with your wild side and see what happens.
Chill Novelty Socks
On rare occasions, novelty socks don't need to bring the party. In fact, they can set a chill tone, making sure everyone knows your vibe that day. These fun socks will help you channel your inner chill as you sit back, relax and enjoy life. Pair these with pants if you're wearing them to work (and definitely don't kick your feet on your desk in front of your boss) or let them show with rolled-up cuffs or shorts when you wear them out to chill. Explore other laid back novelty socks that were designed with you in mind. Lay back with the couch potato kangaroo, get ice-cold chill with a chillin' caveman or take a leisurely stroll with bigfoot.
Fun Socks that Feature Nature
There are days when all our soul needs is us to step outside and appreciate some nature. When that's not possible, channeling it on your socks might just do the trick! Rock these fun socks with leaves on them and get in tune with your inner zen. Become one with the earth, or at least remind yourself that the earth exists and is a lot bigger than whatever you're stressing out about. If leaves don't inspire you as much, find some fun water socks that soothe your soul. Or you could even try novelty socks that act as a canvas for a fun nature scene. Pair these socks with anything that might pull out the color from the socks (like these awesome pink pants in the picture) or pair them with a neutral and let the socks shine bright.
Novelty Socks with (Fierce) Mythical Creatures
We aren't saying that these creatures aren't real, we just haven't seen them before in person. Nevertheless, rock these fire breathing dragon socks and live all day in a world of coolness and mystery. Have strangers admire and fear you all at the same time. Be bold and fearless in the face of danger, or be the danger yourself! Grab some other mythical creature socks like the jackalope socks, loch ness monster socks or bigfoot socks to channel your mystical and magical side all day. Whether you choose to wear these mythical creature novelty socks with a wild outfit or a plain outfit that's up to you. The fierceness will live on your feet and in your heart no matter what.
Food Socks!
That exclamation point wasn't a typo. Fun socks that have food on them are probably as exciting as it gets. Can you imagine how much better an ice cream cone will taste when you're WEARING ice cream cones on your socks!? If you can't, then you need to get these socks and get to your local ice cream shop. (Once your mind is blown, comment below and tell us that we're right.) Whether ice cream is your guilty pleasure or pizza is your preferred way to get your carbs in, novelty food socks are a must. And guess what? For you healthy eaters out there, there are options for you! Imagine how much sweeter a pineapple will taste with pineapple socks. Just dream of how much more of an avocado taste (?) your avocados will have when you have socks on! Anyway, you get the point. Food is way more fun when it's on your fun socks, too.
Custom Animal Face Socks
You didn't think we could make it through this list without mentioning our ADORABLE animal face socks, did you? Really, we can't take too much credit for these. The adorable part is up to you and your animal. We just turn the picture you send us into the most precious socks that ever even existed. Honestly, I'd like to tell you all the appropriate places you could wear these fun socks, but that list would be far too long because I can't think of a place that isn't appropriate to wear these. When you're at work, when you're with your friends, when you're with your family, when you're with your partner, when you're with anyone, these socks will let them know who really has the number one spot in your heart. This will clear up the awkward confusion of someone thinking you like them more than your pet. You're welcome.
Bright Argyle Socks
A sock drawer truly isn't complete without the classic argyle socks. Don't take this as a chance to be boring, though! Argyle socks with an updated twist can be just the answer for a look that is all business from afar with a little party in the details. Opt for a bright color palette in your argyle or just a cool pop of color. Pair them with dress pants, jeans or even a dress or skirt and channel your school girl vibes. The most versatile socks on the list, you really can't go wrong with a cool pair of argyle socks. In fact, stock up and get a few pairs! These aren't socks what will go out of style anytime soon.