Blog
Lakes, Ranches, Baseball and Love: Meet the Bogners
by Sarah Anderson on Apr 05, 2019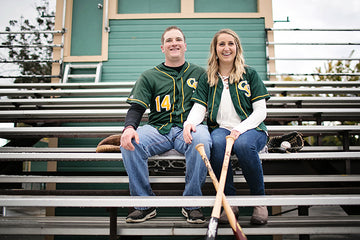 Lakes, Ranches, Baseball and Love: Meet the Bogners
College sweethearts Brett and Dakota Bogner know a thing or two about waiting for the perfect timing. Falling in love at 18, the two journeyed through their college years together into adulthood when they finally got the chance to have their dream wedding. Focused on taking care of their friends and families, having fun and staying true to themselves as a couple in their celebration, these two planned an event to remember. A professional wedding planner, Dakota let us in on the details of her own big day and how she and her husband, Brett, came to find themselves standing at the altar together.
How did you meet your spouse?
We met our freshman year of college at Colorado State University; we lived in the same building, and a friend of his lived across the hall from me, so he spent a lot of time on our floor. We became great friends, and it bloomed into something more by the end of our freshman year.
When did you know they were the one you wanted to marry?
We fell in love really quickly but were 18 when we met, so as we adventured through college together, we both found ourselves and grew a lot together. I knew I wanted to marry him before I finished college, but it took some time for our lives to align. We knew we would get married someday, but took our time, and it all happened in the most perfect timing!
Tell us about the proposal.
On our first date, we went on a sunset walk around a lake in a town nearby. Since that, that lake has sort of been "our place," and we take walks there a few times a year and reminisce. Brett wanted to have a date night at a restaurant near the lake because we had a gift card... so naturally wanted to walk at the lake after dinner. He had taken my mom to the lake the week before, to pick out the perfect proposal spot. He had my sister-in-law and cousin trick me into going into a jewelry store on my birthday (three weeks prior) and they talked me into trying on rings. I had NO clue he was in on it... and did unknowingly fall in love with the ring he had already picked out. It didn't even need resizing. He bought the ring that same day, and planned to propose a few days later... but he got called out on a wildfire (he's a wildland firefighter) and had to leave the state for two weeks. Everyone was anticipating a proposal that weekend, and then had to keep it a secret for three weeks! The whole time he was gone, the ring was in my car, and I had no clue. Back at the lake... we got to the spot that he and my mom had picked out. He got down on one knee to "tie his shoe," and popped the question! I was SO surprised, that I didn't even notice our families emerging from behind nearby houses and bushes! The whole thing was beautifully photographed at sunset. We popped champagne and ate chocolate cake on a picnic blanket with our families.
How long did you plan for your wedding?
11 months
When planning your wedding, what were some things that were important to you?
We didn't want to have to cut our guest list down to fit into a venue... we wanted a BIG party! So we had our wedding at my grandparents' ranch, where we could put up any size of tent we wanted. A lot of our guests were friends of ours from college, so we wanted an epic DJ that would keep the dance floor packed all night long. We also wanted to take care of people... sure, our wedding was about us, but we wanted it to be joyful and memorable for everyone.
"Being in a wedding shouldn't be a burden for someone, it should be a joy and a celebration, so we cut costs in order to cover expenses for our friends and family."
Were you working with a budget? If so, what were some things that you felt comfortable spending more on and what were some things that you wanted to save money on?
We wanted to take good care of our families and bridal party, so we eliminated some things (i.e. a photo booth) so that we could pay for a cabin for lodging, and cover a lot of expenses for our bridal party. Being in a wedding shouldn't be a burden for someone, it should be a joy and a celebration, so we cut costs in order to cover expenses for our friends and family.
Pictured: Wisteria Plum Argyle Socks
Tell us about your decision to purchase groomsmen socks?
We definitely wanted nice dress socks for all the guys... it was part of their groomsman gift, and that way I was sure they'd all match! The photos are so fun, and I loved how they all looked!
How did you choose what pattern and color?
With tan suits and purple bowties, I knew I wanted the socks to be purple. I figured a pattern would be more fun than a solid, so that narrowed it down as well.
How did the groomsmen socks impact your day, pictures, and/or overall look?
They definitely made for some FUN groomsmen photos. I'm so glad we did it!
Were there any other details that you would recommend other couples plan for?
Be considerate of what others are putting into your day. Yes, this celebration is about YOU, but I encourage you to consider others in the process. Not everyone's budget will allow for you to cover expenses for your bridal party, but be considerate in picking out a bridesmaids dress, and in the suit rental process, how it'll impact your friends and family. Especially when there are also travel expenses involved. It'll bring more peace to everyone. :)
What was your favorite part of your wedding day?
This is a nearly impossible question to answer... but I'd have to say that the best part was having all of our favorite people in one place, at one time. It was such amazing quality time spent with the people we love, and it was such an amazing celebration with everyone who supports us and cares for us.
If you were to do it over again, would you change anything? If so, what?
I list a couple of small details that didn't go as planned... but overall, it was SUCH a beautiful day, and sometimes it's the imperfections that make a day special.
What is your favorite thing about being married?
It's just a fun new chapter of life that we're figuring out together. Being settled in a new house and looking for a puppy to get... it's learning how to be husband and wife and the exciting anticipation of what our lives together will become!
You also founded an events business! Tell us about your company.
I founded Premier Events in 2014. I've loved weddings my entire life, and wanted to explore the wedding planning industry, but wanted to do it in an authentic, personal way, so I thought starting my own company would be the best way to do that! The first couple of years were a huge learning curve, and I'm so grateful for the clients that trusted me with their weddings in the beginning. I've grown more passionate about weddings each day, and truly LOVE what I get to do. We provide full service wedding planning, partial planning, and day of coordination. We're based out of Fort Collins, CO but serve all of Northern Colorado (and beyond). I have an amazing team of girls that assist me. We believe that our clients should celebrate life's big moments by letting us handle the small details and the heavy lifting. They enjoy a stress free celebration, and that's where we come in! Our website is www.apremierevent.com or you can find us on Instagram at @apremierevent.
Is there anything else you'd like to add?
Wedding planning can be stressful, and it can be difficult to manage what everyone else's wants and opinions are. But remember that your wedding day is about YOU as a couple. If it represents who you are, and your relationship together, that's THE most important thing. Also, I highly recommend hiring a wedding planner/coordinator if your budget allows. You and your families deserve a stress-free wedding day!
You can shop the Wisteria Plum Wedding Socks and many other great wedding socks here!