Blog
Flamingo Pink Navy Argyle Men's Groomsmen Wedding Dress Socks
by Sarah Anderson on Aug 17, 2018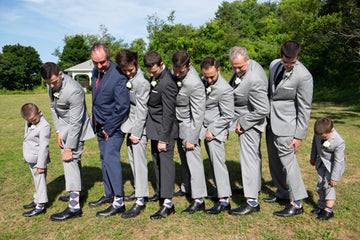 Flamingo Pink Navy Argyle Wedding Socks
One of our most popular wedding socks, these flamingo pink navy argyle socks add a fun, classic element to a couple's big day. Perfect with any color suits, the pop of pink creates a feeling of sincerity and love while the navy base makes for a strong, sturdy vibe perfect for groomsmen, junior groomsmen and family of the bride and groom!
Eliannah and Dave chose these popular socks as the preferred footwear for their wedding and were kind enough to share photos with us so other brides and grooms can follow suit and nail their vibe on their wedding day. Opting for natural scenery, the duo brought their friends and family outside to nab some photos of their crew. Greenery was the background of choice for the groom, groomsmen, junior groomsmen and special guests to show off their socks. The couple chose junior groomsmen socks so their younger guys could enjoy fun socks and match their older counterparts. The groomsmen crew joined the bridesmaids as they stood by the bride and groom, making for a complete wedding party photo op right by the water.
The couple nailed it when they pulled from some of the nautical elements of their look for a beautiful photo by the water. The slate teal bridesmaid dresses sitting against the water creates a beautiful complement to the light gray groomsmen suits and rocks in the scene. (If you love blue bridesmaid dresses, The Knot put together a great list of ideas!) Each element pulled together to create a clean and formal but still light and beachy look.
The multiway bridesmaid dresses are a nice nod to the independence and individuality of each of the women. A popular trend that every woman who will one day be a bridesmaid hopes will stick around, these dresses allow each person to style them a little differently, allowing for the most flattering look on everyone. Brides can keep them all in the same color like this one, or opt for a color palette for bridesmaids to stick within. The result is a pulled together look, with each bridesmaid showing off their own personality and, most importantly, feeling comfortable and beautiful in their dress. This article from Brides.com shows off some of the stunning looks celebrities have donned as bridesmaids, including many looks that leave room for individuality.
Whether you're planning a wedding, helping a friend with theirs or just gathering ideas for one day, take a few notes from this dapper duo. Find a venue or location that will flatter your color scheme. Make sure your bridesmaids are in looks that suit them and make them feel confident. Plan some special touches like matching groomsmen socks and include some special people outside of your bridal party in those fun details. Make your junior groomsmen or ring bearers feel just as special as the grown-ups and include them in as many day-of elements that you can. Don't be afraid to go simple with the bouquets and remember that simplicity is a statement in and of itself. And finally, once all the chaos of planning and detail-choosing is done, take time on the day the remember what you are truly celebrating. Two people who have found their forever is a beautiful occasion. The bridal party is there for more than matching bridesmaid dresses, matching groomsmen socks and suits and cute photographs. They are there for forever with you, supporting you every step of the way.
Do you love this look? Shop our men's sizes here and our junior groomsmen's sizes here. You can also check out our groomsmen kit here!