Blog
Back to School: Talk the Talk, Walk the Walk, and Rock the Socks
by Sarah Anderson on Aug 21, 2017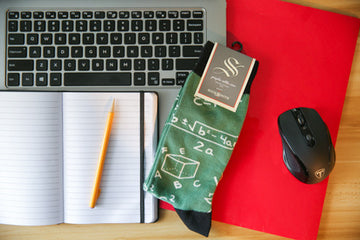 Back to School Cool: Talk the Talk, Walk the Walk, and Rock the Socks
As the crisp air of the fall begins to roll in and the sunny days of summer start to say their goodbyes, we start putting away our swimsuits and sunglasses and get ready for a whole new adventure. Back to school. Each year, we get the opportunity to become even better than we were last year. This year, we have the opportunity to learn even more, try a new sport, discover a hidden talent and make the best friends. We can update or elevate our style, get better at getting up early, arm ourselves with the best school supplies to make learning easier and more fun. Yes, this year, we can start fresh and new. We can make joy in all of the tiny moments that shape our school year.
Teachers
Is there a better time for educators to pump their students up for a year of learning than by upping their sock game. Imagine the look on your student's face when they see that you not only love your content area, but you also wear it on your feet. What better for the science teacher than dinosaurs or Albert Einstein accompanying them on their first day? For the math teacher, colorful socks bearing mathematical equations will communicate to students that it's time to have fun getting serious about math. Administrators and coaches will boast their school spirit with boldSOCKS solid colors or argyle socks to match the school mascot. There is no better time to represent your subject, content area and school pride than with socks that will make connections with kids and brighten every school hallway.
College and High School Students
Class is about making an impression (and learning, of course). College and high school can certainly take up a lot of time and brainpower, so let your fashion choices be simple and bold. Nothing says "I'm a put-together, aspiring world changer" like a pair of socks full of personality to tie your look together. When you're stepping onto campus this fall, let your steps count and make a statement.
Opt for socks that give a nod to some of the famous historical figures you'll be learning about. Or, impress with some argyle socks, a classicly bold statement with an up-to-date flair to keep you looking fresh. Go for a pattern no one has seen before and set a few trends while you hit the books. Find some fun novelty socks that show off your favorite hobby or serve as a good laugh for you and your friends. The world is full of possibilities to let your personality shine.
Elementary and Younger
When the world is so big and school can be so new and scary, there's nothing like fun socks for kids to put an extra pep into your young learners' steps. School can be a place to play, a place to show off your personality and fashion sense and a wonderful treasure chest full of knowledge and new discoveries. Little ones can match their socks to the letters, animals and numbers they are learning about in school! They can don some fun argyle socks for kids to show that they mean business about their fashion sense. They can dance around in socks that celebrate their favorite mythical creatures and let their imaginations run wild all day. Let your little learner discover their personality through fun socks.
Check out our back to school sale here!